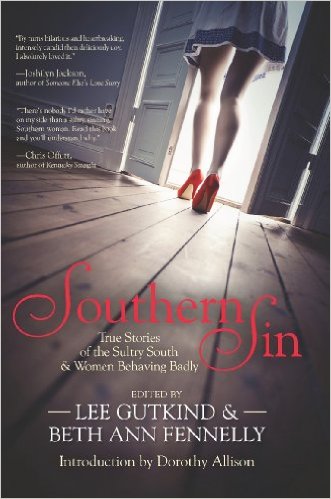 Southern Sin
True Stories of the Sultry South & Women Behaving Badly
23 strange-but-true stories of women flirting with perdition… In the steamy South, temptation is as wild and plentiful as kudzu. Whether the sin in question is skinny-dipping or becoming an unlikely porn star, running rum or renting out a room to a pair of exhibitionistic adulterers, in these true stories women defy tradition and forge their own paths through life—often learning unexpected lessons from the experience.
As Dorothy Allison writes in her introduction, "The most dangerous stories are the true ones, the ones we hesitate to tell, the adventures laden with fear or shame or the relentless pull of regret. Some of those are about things that we are secretly deeply proud to have done."
A diverse array of contributors—mothers, daughters, sisters, best friends, fiancées, divorcees, professors, poets, lifeguards-in-training, lapsed Baptists, tipsy debutantes, middle-aged lesbians—lend their voices to this collection. Introspective and abashed, joyous and triumphant (but almost never apologetic), they remind us that sin, like beauty, is in the eye of the beholder.Southern-Sin_Cover
Reviews
Attach the word sin to any other region of the country—Pacific Northwest, Midwest, heck, even the Mid-Atlantic—and it not only sounds wrong, it comes off as downright silly. But the South? Ah, now there's a match made in heaven. What's even more divine is that the sinners are all women: good ol' gals and Victorian renegades, sullen students and sultry soccer moms who suffer from an excess of emotion, a surfeit of sensuality. Gutkind (You Can't Make This Stuff Up, 2012) and Fennelly (Unmentionables, 2008) collect the works of 23 observant writers who catch obliging women in the act of doing outrageous things that run the gamut from slightly inappropriate to almost evil and somehow leave them feeling just right. When they trade their comfort zone for a danger zone, it's not that they're looking for love in all the wrong places; sometimes some good old sex will do. In each of these true stories, the search for identity and acceptance, attention and excitement manifests itself in myriad ways, but always with the heart of Dixie at its core.
—Booklist
"People say that God listens most to the prayers of a hard sinner and Southerners do everything hard: love, fight, pray, drink, and live. There's nobody I'd rather have on my side than a sultry, sinning, Southern woman. Read this book and you'll understand why."
—Chris Offutt, author of Kentucky Straight
"This delicious collection slyly moves between dramatic transgressions—slicing your lover's throat or refusing to aid a woman who may just have been assaulted—and small transgressions—slapping your Mama on the face, shoplifting cheap bras at the mall, poking through your mentor's trash to discover the twirls of dental floss before fondling her shower gel, insisting that a vibrator adverse lesbian try one—never missing a beat, as author after author confesses, brags, tells, a story of a woman dancing with the devil—all alone or in raggedy company. Over and over again the heroines of these true histories discover being wildly lost often leads to being self-found. Southern Sin is a significant addition to liberation literature that transcends regionalism even as it celebrates it. At the center of this project is a breaking and re-making of the American Puritan concept of the power of confession."

—Alice Randall, author of The Wind Done Gone