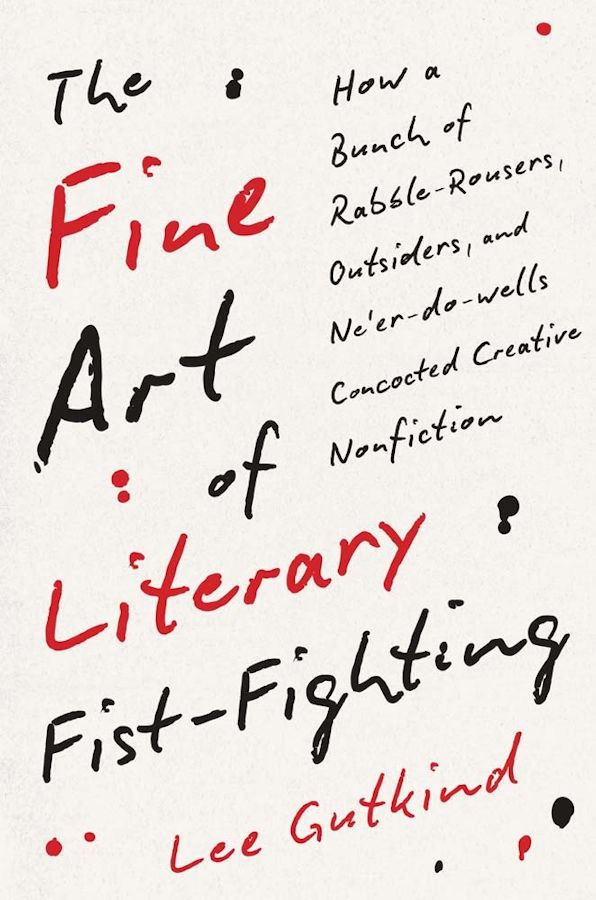 The Fine Art of Literary Fist-Fighting
How a Bunch of Rabble-Rousers, Outsiders, and Ne'er-do-wells Concocted Creative Nonfiction
Coming JANUARY 2024
In the 1970s, Lee Gutkind, a leather-clad hippie motorcyclist and former public relations writer, fought his way into the academy. Then he took on his colleagues. His goal: to make creative nonfiction an accepted academic discipline, one as vital as poetry, drama, and fiction. In this book Gutkind tells the true story of how creative nonfiction became a leading genre for both readers and writers.
Creative nonfiction—true stories enriched by relevant ideas, insights, and intimacies—offered liberation to writers, allowing them to push their work in freewheeling directions. The genre also opened doors to outsiders—doctors, lawyers, construction workers—who felt they had stories to tell about their lives and experiences.
Gutkind documents the evolution of the genre, discussing the lives and work of such practitioners as Joan Didion, Tom Wolfe, Norman Mailer, James Baldwin, Zora Neale Hurston, Rachel Carson, Upton Sinclair, Janet Malcolm, and Vivian Gornick. Gutkind also highlights the ethics of writing creative nonfiction, including how writers handle the distinctions between fact and fiction.
Now Available
An American Male in his Seventies
This revealing, candid, and vivid portrait of one man's view of aging written by the man who played a crucial role in establishing literary, narrative nonfiction in the marketplace and in the academy, examines male aging in a way we've not seen before. In My Last Eight Thousand Days, Gutkind turns his notepad and tape […]
Learn More
The master of immersion research has immersed himself this time in his own story, with courage and honesty, generosity and wisdom, holding nothing back. Anyone who is aging and/or confronting loneliness (that means pretty much everyone) could benefit from reading this thoroughly engaging book.
Phillip Lopate
Lee Gutkind's commitment to telling the truth, regardless of the discomfort, amounts to a kind of perfection in observation. He refuses to see what is not there, nor to exaggerate, nor to sentimentalize, and as a result, My Last Eight Thousand Days vibrates with a revelatory and somewhat dangerous freight: the feeling of actual life, actually lived.
Rick Moody
Life-changing in its perceptive and honest revelations of growing older. A must-read for all of us longing to peel back the truth of ourselves.
Gay Talese
This memoir is alive with the urgency of a man in his seventies still yearning to achieve a realized life. Lee Gutkind takes this urgency and runs with it. Many readers, I predict, will see themselves writ large in the pages of this gutsy, heart-felt example of creative nonfiction at its best.
Vivian Gornick
About Lee Gutkind
"Gutkind is the Godfather Behind Creative Nonfiction."
-Vanity Fair
Lee Gutkind is the author and editor of more than thirty books, including You Can't Make This Stuff Up: The Complete Guide to Writing Creative Nonfiction–from Memoir to Literary Journalism and Everything in Between, Almost Human: Making Robots Think, The Best Seat in Baseball: But You Have to Stand, Forever Fat: Essays by the Godfather, and the award-winning, Many Sleepless Nights: The World of Organ Transplantation.
Read Lee's Full Bio
Praise for Lee as a Speaker
"
Lee is one of those rare gifted writers who are also eloquent speakers—and importantly, entertaining speakers, who engage an audience and hold their attention from start to finish. In particular, the transplant surgeons and their staff loved his talk about organ transplantation.
Anand B. Karnad, MD, Division of Hematology-Oncology Professor of Medicine, UT Health MD Anderson
"
Lee Gutkind is the total package! Not only is he the authority on creative nonfiction, but he is also a compelling, entertaining, and flexible speaker. We were fortunate to have him on campus for several days, during which he read his own excellent work, lectured on genre and craft, and created an energetic dialogue with students and faculty during a series of class visits. We all learned a lot from Lee, and enjoyed ourselves very much in the process!
Amy Lemmon, Fashion Institute of Technology, NYC
"
Lee brought such passion, thought, and enthusiasm to the discussion.  Our audience was clearly rapt, and many people told me afterwards how much they enjoyed the program . . . Lee is a superb storyteller and can teach anyone how to tell great stories at the same time.  We'd be honored to have him back for a future program.
Frances A. Rosenfeld, Ph.D., Curator of Public Programs Museum of the City of New York
"
Lee Gutkind delivered a compelling presentation focused on the nursing titled, 'Nurses: Heroes of the Healthcare Profession', which inspired and resonated with our audience.
University of Texas Health Science Center at San Antonio School of Nursing
"
Podium? What podium? Lee Gutkind lights up a room. His keynote was as entertaining as it was informative, and his energy level super high. He was quite personable during the book-signing, and he gave all attendees undivided attention as they approached the table.
Donna Talarico, Hippocampus Magazine's HippoCamp Writers' Conference
"
Lee Gutkind is a thoughtful and intelligent speaker who deeply understands the world of healthcare from the multiple perspectives of cultural observer, savvy layperson, and insightful writer. He brings his own personal vision to the healthcare zeitgeist, and any audience would be well served by being in his charismatic presence.
Keith Carlson, RN, BSN, CPC Nurse, blogger, writer, speaker and RNFM radio host
"
Lee's presentation was exhilarating, substantive, and extremely well received by our faculty and others in attendance. It was refreshing for attendees to receive his challenge to embed story into their curricula and co-curricular programming and also to think seriously about penning their own personal stories. . . he was most giving in terms of sharing 'his tools of the narrative non fiction trade', and in that regard the take-aways from his presentation were tremendous.
Malou C. Harrison, Interim President Miami Dade College, North Campus and West
"
Lee Gutkind – the Godfather behind the creative nonfiction movement – is as compelling on stage as he is on the page. Gutkind is a mesmerizing storyteller . . . even when addressing the art of telling a story. And in this era obsessed with reality, no one is better prepared to address the complexity, richness, and history of true narrative.  We simply can't get enough of Mr. Gutkind. We plan to bring him back again and again.
Neil White, Director, Oxford Creative Nonfiction Conference Creative Director & Publisher, The Nautilus Publishing Company Author, In the Sanctuary of Outcasts
"
Kudos to Lee Gutkind, a professional all the way.  Gutkind's presentation expanded our core audience of art-lovers. University students were enamored to meet such a well-spoken writer, while the general community was captivated by his research and experience. Can't wait for an opportunity to invite him back to our museum and university.
Aimee Geist, Education Curator, Ulrich Museum of Art, Wichita State University